Registration
is now open!
To register please scan the QR code
and fill out and submit the registration form. Please contact us if you have any problems registering. We look forward to seeing you there!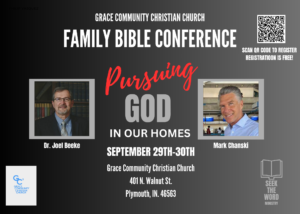 Event Schedule:
Friday, September 29th
7:00pm Opening Prayer & Worship
7:15pm Keynote Speaker, Dr. Joel Beeke
Bookstore opens following session
Saturday, September 30th
9:00am Prayer/Devotional. Bookstore open.
10:00am Worship
10:30am Session 1- Brandon Richie
11:30am Break-out session for men and women.
12:30pm Lunch/Fellowship. Bookstore open
2:00pm Session 2- Mark Chanski
3:00pm Questions & Answers
4:00pm Session 3- Dr. Joel Beeke